Two of our Survivors Graduated!
Special Ops Survivors, as part of its efforts to ensure that surviving spouses have a healthy post loss future for themselves and their families, awards education grants to surviving spouses of fallen special operations military personnel. Our Educational and Career Advancement Grants provide essential funding to help our survivors go back to school to receive bachelor's degrees, certifications, professional licensing and in taking continuing education courses. The purpose of the grants is to reward spouses for their strength and resiliency as they further their careers so that they can better care for themselves and their families.
Congrats on Wendy's Certification as a Veterinarian Assistant!
Wendy
Air Force Special Operations Surviving Spouse and an awardee of our Education & Career Advancement Grant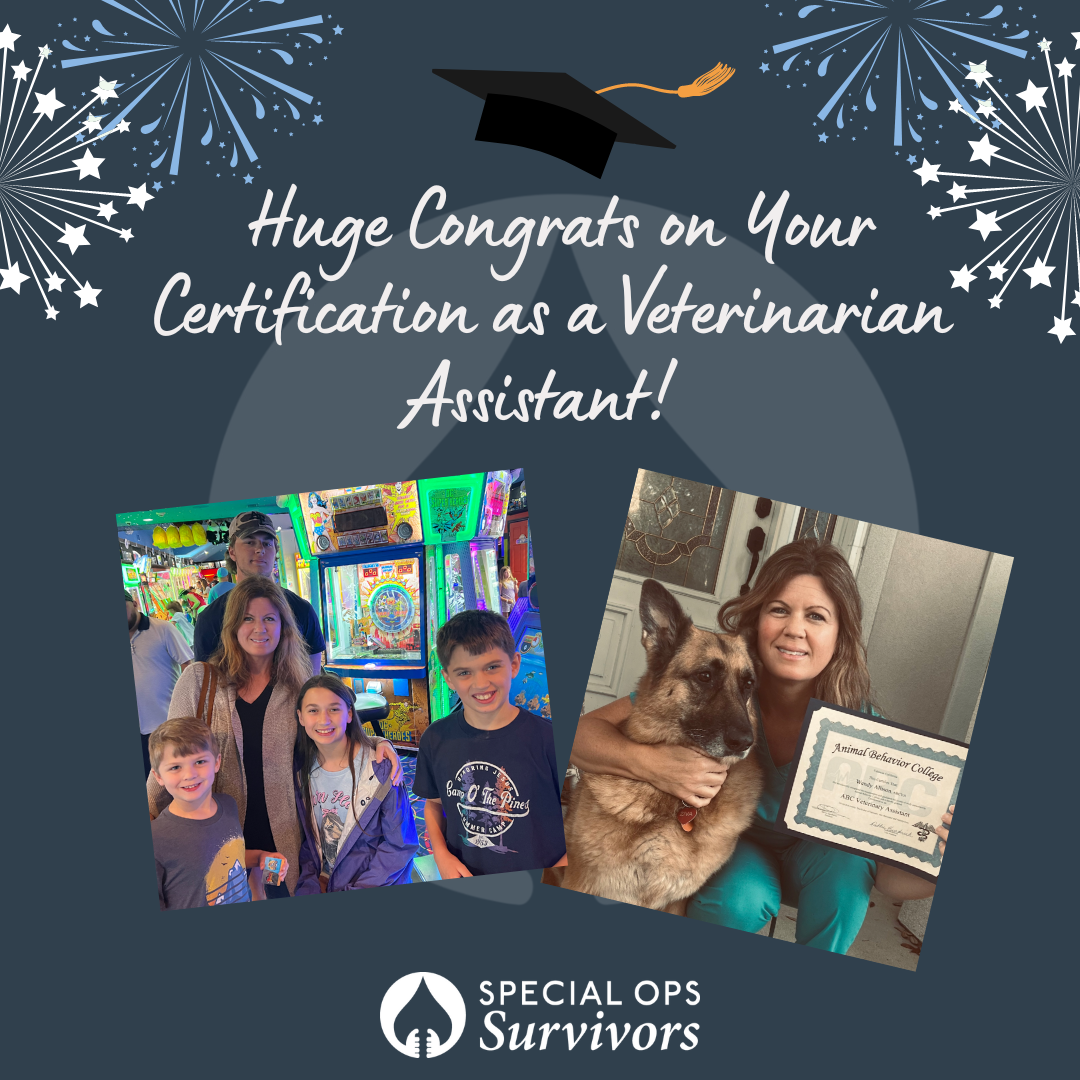 What made you go back to school?
"I decided to go back to school because I was at a point in my life where I wanted to do something to invest in myself. Having four children is the biggest blessing ever but I found myself dreaming of doing something for myself, to better myself. Because I have always really loved working with animals, I felt a calling to pursue vet medicine."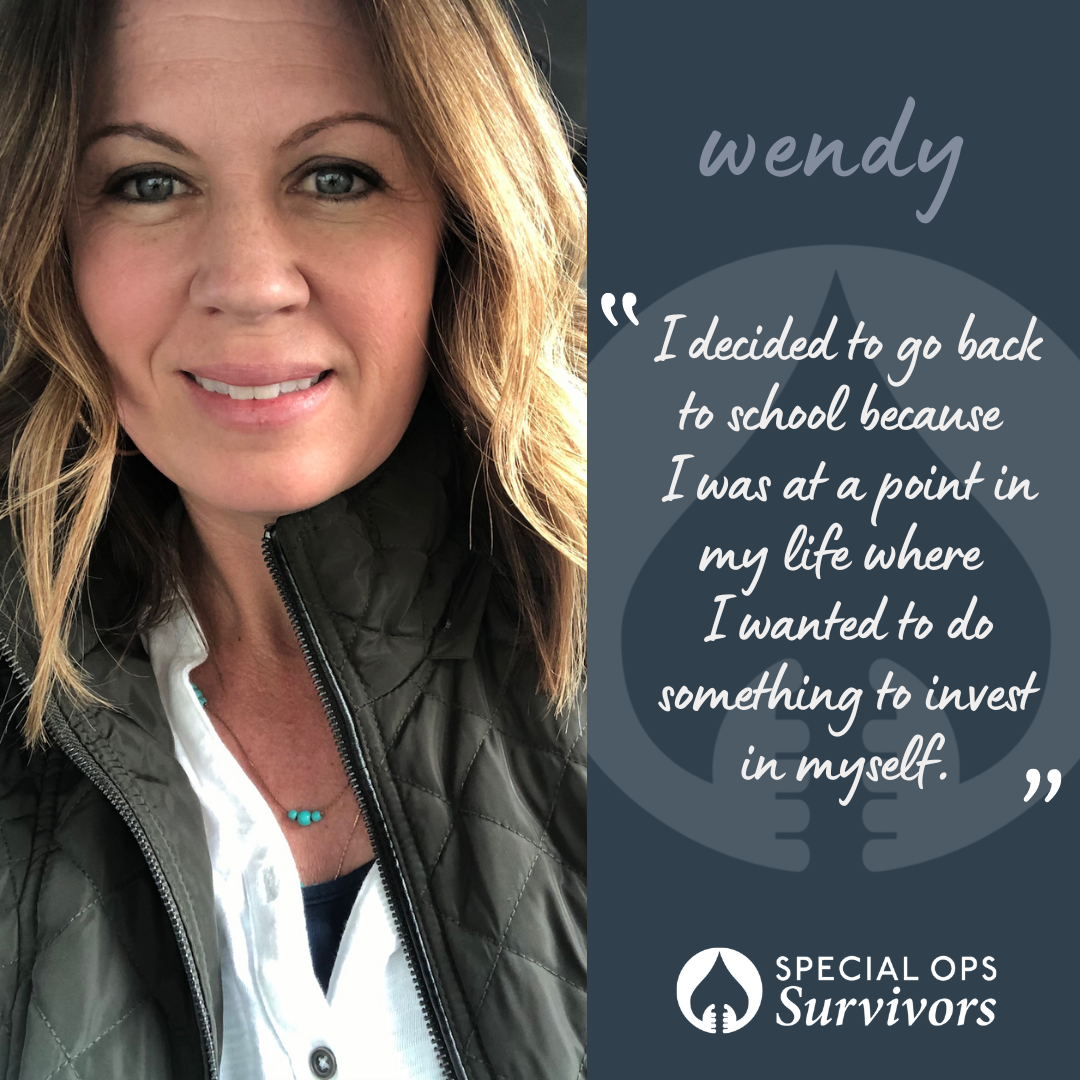 What made you decide on your program?
"I did some research on a program that would work with my schedule. I am constantly driving kids here and there as well as homeschooling them, so I needed something that I could do at night or in-between my daily schedule. I choose an online program through Animal Behavior College. It took me a little longer than I thought because due to COVID restrictions, I had a more difficult time finding a vet office that I could do an internship with but once I got into one, it was smooth sailing."
What are you doing now because of your education?
I am currently working part time in the veterinarian office that I did my internship with. It is a small office that keeps busy so there is a lot of opportunity for me to continue learning. I also do dog and cat grooming as well. I love it!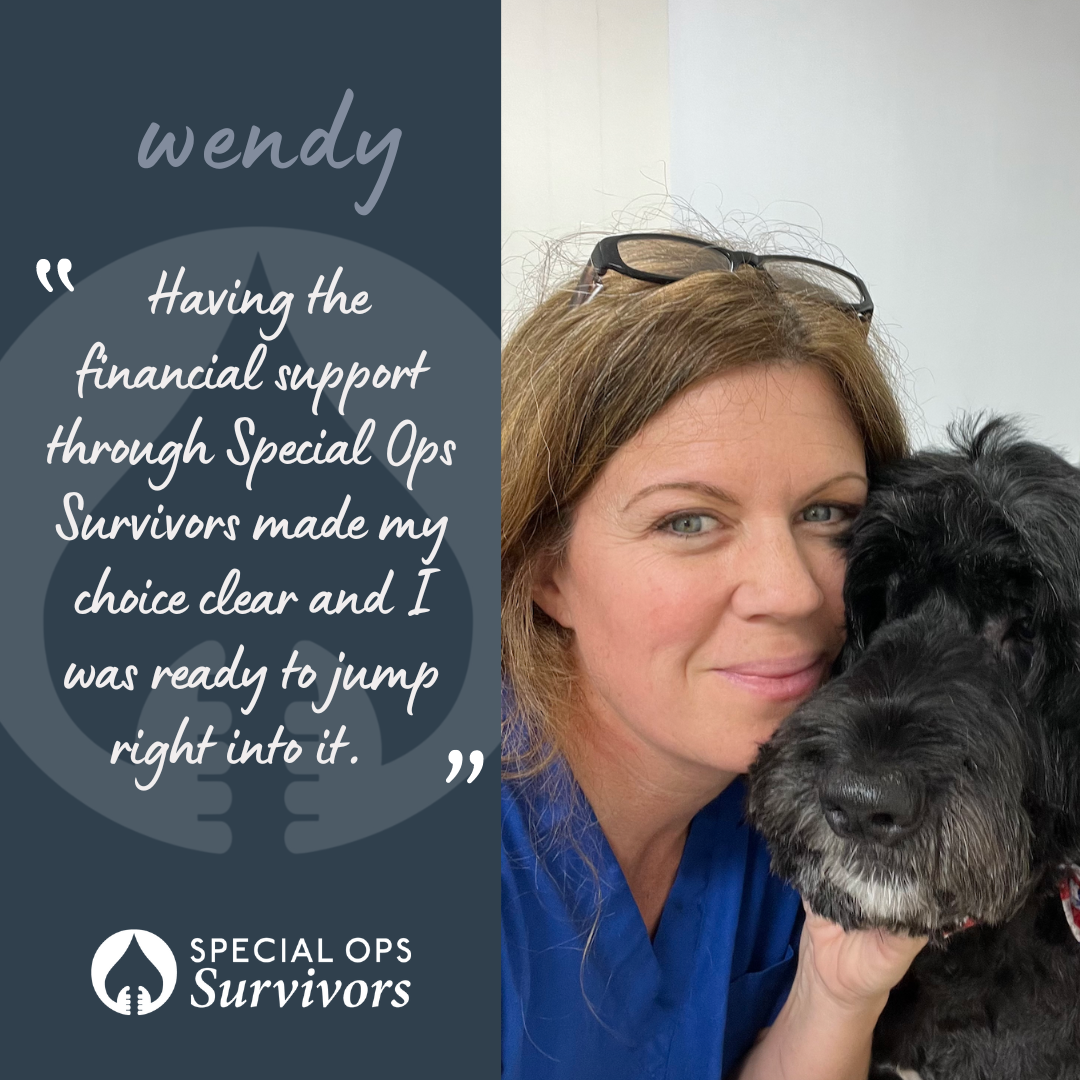 How did the Special Ops Survivors Education & Career Advancement Grant help you with your educational goals?
The Special Ops Survivors Education and Career Advancement Grant helped me by covering the majority of the tuition for my program. If it had not of been for Special Ops Survivors and the grant, I would have pushed off my certification and possibly not have done it at all. Having the financial support through Special Ops Survivors made my choice clear and I was ready to jump right into it. Thank you! I'm forever grateful!
Hannah
 – Air Force Special Operations Survivor and an awardee of our Education & Career Advancement Grant
Congrats on Receiving your Bachelor's in Human Resource Management!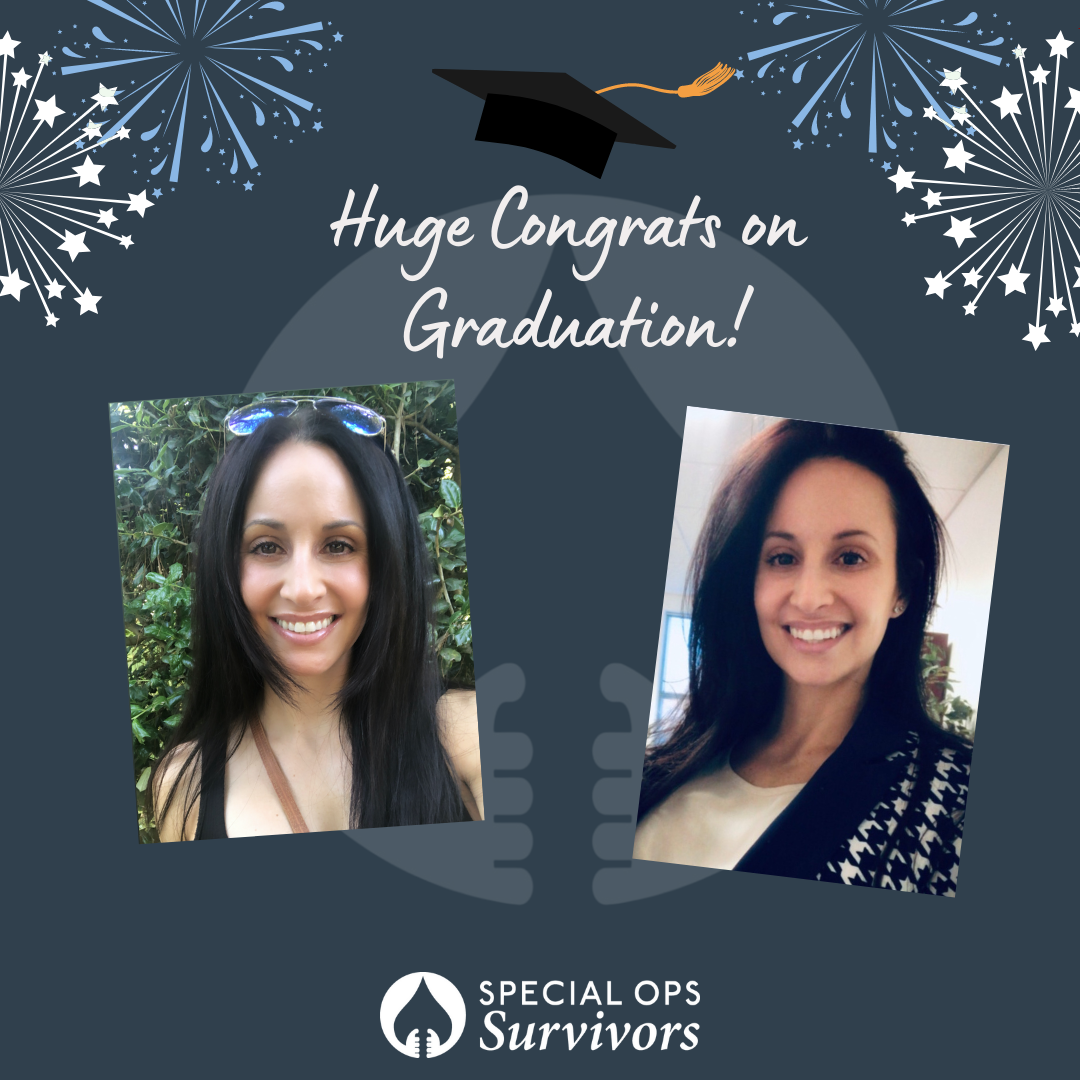 What made you decide to go back to school?
I decided to go back to school so I could obtain the education/training I needed to be a more competitive candidate. In today's world having a bachelor's degree is more desirable to employers, especially in my career field. I knew I needed higher education to reach my goals much quicker.
What made you decide on your major?
"When I chose my major in Human Resources Management I was working as the HR assistant. The company I was working for needed help in the HR department, so I offered to learn so I could help. About two months after I moved to the HR department I just fell in love with Human Resources; so, I applied to the Bachelor's Program at the University. I chose this field because I loved it and after researching the growth opportunities in HR I knew it was the career for me. There's so much one can do within the HR realm."
What has your education done for you in your professional life?
"Receiving my Bachelor's in Human Resources Management really fast tracked my career. Last year when I graduated with my degree, I was a Human Resource Generalist. Since graduating I've had numerous companies contact me leading me to my current role as an HR Manager for a global company. I currently oversee and manage an entire HR department for one of the North America locations. I don't think I'd be where I am today in my career if I didn't have my degree. My goal is to eventually be a Vice President of Human Resources or a Chief Human Resource Officer."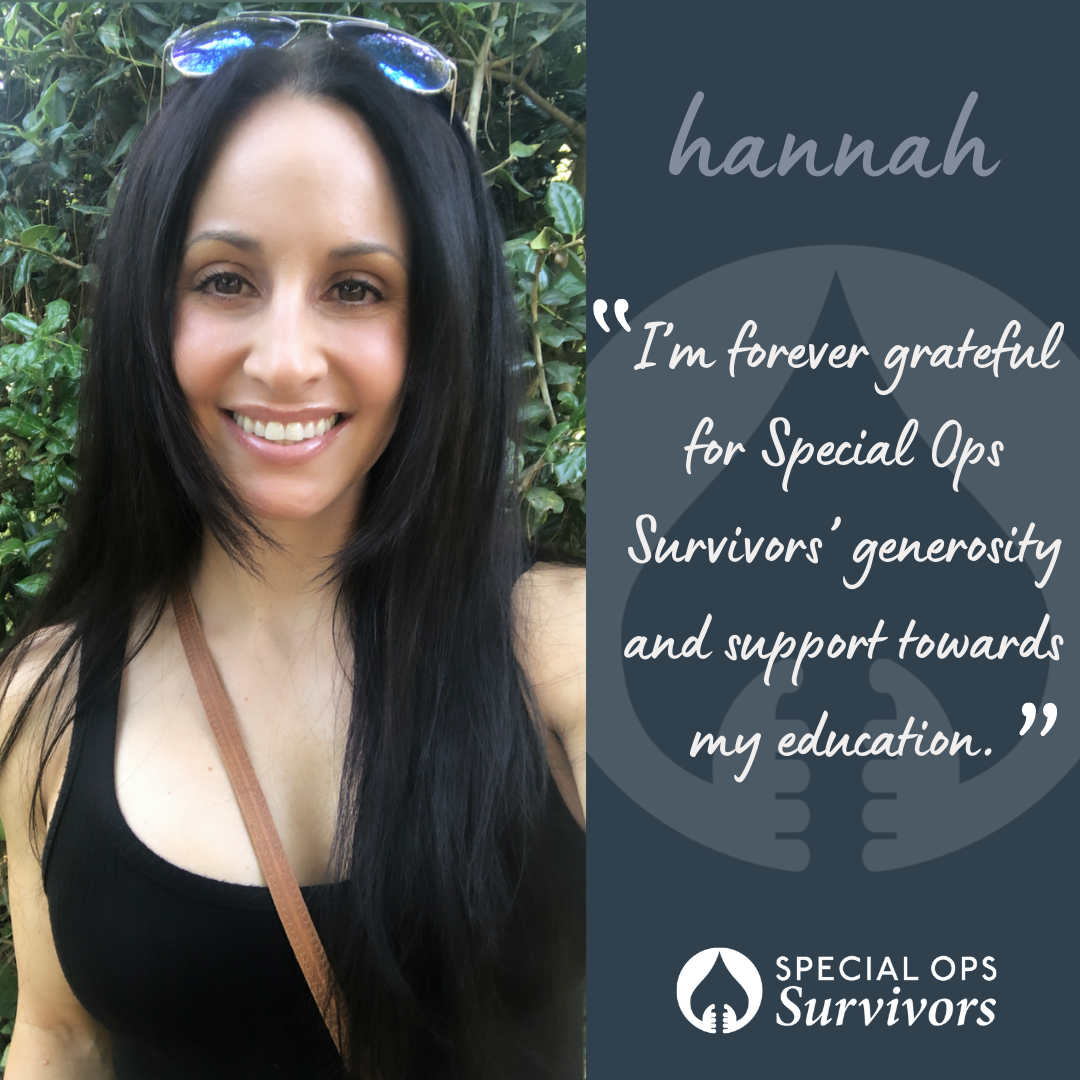 How did the Special Ops Survivors Education & Career Advancement Grant help you with your educational goals?
"This grant afforded me the opportunity to increase my knowledge, skills, and marketability. I wouldn't be where I am today in my career if Special Ops Survivors didn't graciously award me the scholarship 4 times. They were constantly supportive of my goals to graduate and took a lot of stress off my plate with the financial assistance. I'm forever grateful for Special Ops Survivors' generosity and support towards my education."