Honoring Our Surviving Spouse Veterans
At Special Ops Survivors, we have several surviving spouses who have served or are continuing to serve in our military. Check out what our survivors have done in the military and what they learned from their time serving our country. Please join us in giving our surviving spouses a shout out and THANKING THEM for their service!
MSgt Michelle Fitz-Henry, Retired
Surviving Spouse of SCPO Theodore Fitz-Henry

Michelle Fitz-Henry served just over 20 years and retired from the Air Force in 2005. On active duty, Michelle was a weather forecaster. After 8 years on active duty, she became a reservist. As a reservist, Michelle was an Aeromedical Evacuation Specialist on C-130s with the 63rd Aeromedical Evacuation Squadron based in Chicago, Illinois.  When the base closed, she went to Billy Mitchell Field in Milwaukee, Wisconsin. They didn't have flight medics at this base, so she went to school to be a C-130 loadmaster, an aircrew member on a C-130. Michelle retired as a as a Master Sgt shortly after her husband's death.
Tell us about your time in the military:
I had a great ride with great career opportunities. I was the only female in my class when I went to school to become a C-130 loadmaster. That experience helped me to know I could hold my own. It gave me the confidence I needed when I applied to be a career firefighter/paramedic as a civilian and again was the only female in my class. I had done it once and I knew I could do it again. I had a childhood without a lot of guidance. The military gave me structure which I needed and wanted. The skills and lessons I learned in the military served me well for the rest of my life. I feel my service enhanced the wonderful relationship I had with my husband. He was SEAL Corpsman so we both had a military and medical background. I feel my service helped with my grief journey. I had the firefighter family to support me after Ted's death along with my military family. And Special Ops Survivors gave me the most important family of all – my widow family. I thank them for that and am so grateful for giving me my widow family. 
What made you decide on your program?
"I did some research on a program that would work with my schedule. I am constantly driving kids here and there as well as homeschooling them, so I needed something that I could do at night or in-between my daily schedule. I choose an online program through Animal Behavior College. It took me a little longer than I thought because due to COVID restrictions, I had a more difficult time finding a vet office that I could do an internship with but once I got into one, it was smooth sailing."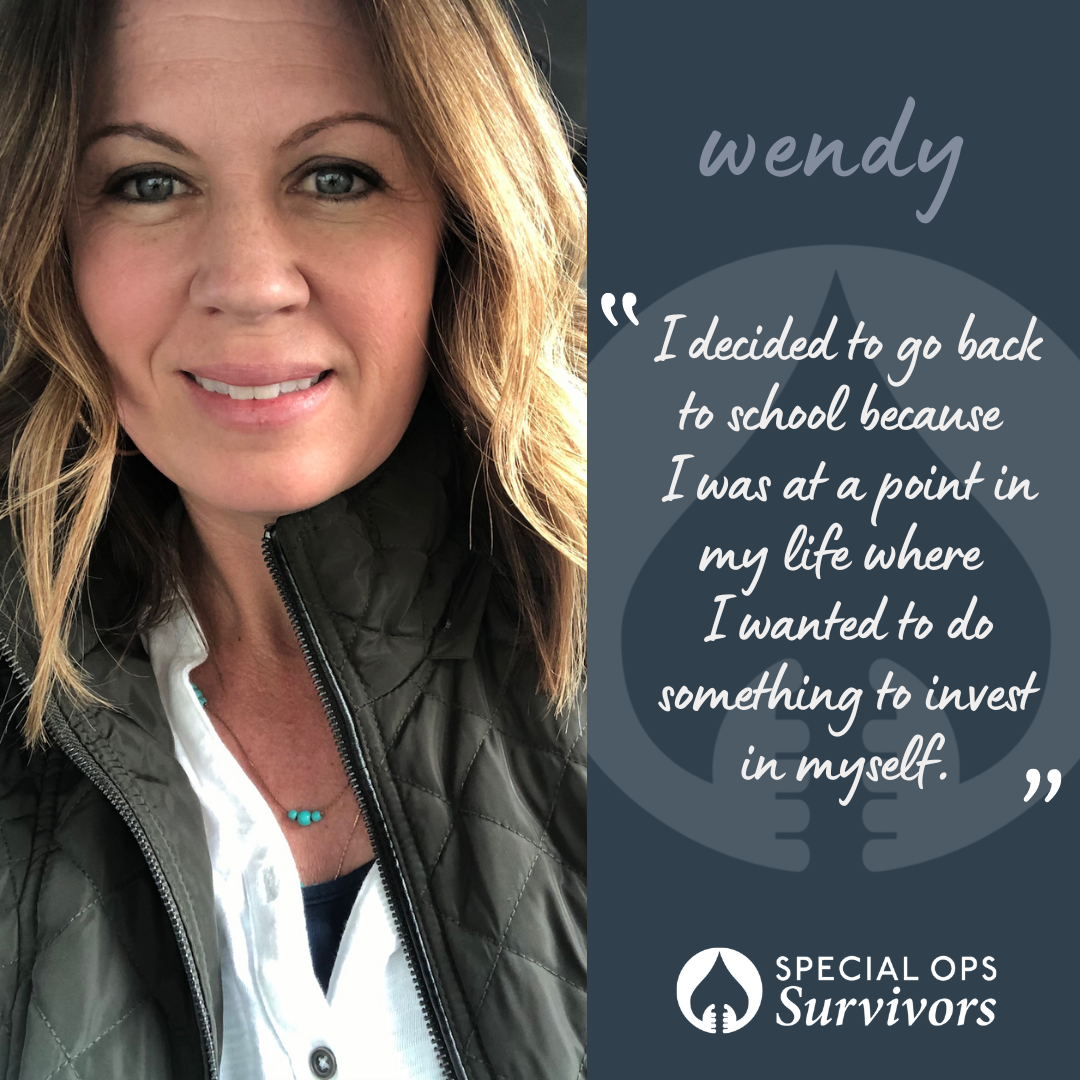 AK2 Keri Wade
Surviving Spouse of CPO Patrick Wade
4 ½ years service

Keri Wade served in the Navy for 4 ½ years from 1994 to 1998. Keri was a 2nd class petty officer (E5) as an aviation storekeeper where she ordered parts of airplanes. She served at the same base with her hero although not with each other.
 What did you learn in your time in the military has helped you in your everyday life?
I learned perseverance and confidence in myself to rise to the occasion. The military introduces you to something new all the time so adapting quickly becomes the norm. 
What skills/takeaways did you learn from your time in the military?
Sticking up for myself especially when outnumbered, being more organized, and believing that I can accomplish more than I ever thought I could. 
Do you think being in the military along with a surviving spouse was a hard combination or do you think the military gave you tools/skills to help with your grief journey?
Just as I felt like being a veteran helped me as a military spouse, being a veteran helped with being a widow. I felt more prepared by having an inside experience already under my belt. 
What made you decide on your program?
"I did some research on a program that would work with my schedule. I am constantly driving kids here and there as well as homeschooling them, so I needed something that I could do at night or in-between my daily schedule. I choose an online program through Animal Behavior College. It took me a little longer than I thought because due to COVID restrictions, I had a more difficult time finding a vet office that I could do an internship with but once I got into one, it was smooth sailing."